About Playle's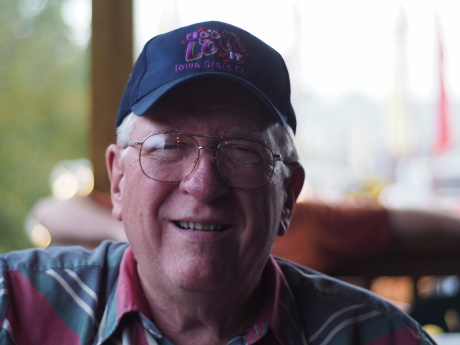 Ron Playle (1937 - 2018)
This site was the vision of my father, Ron Playle. Ron collected Vintage Postcards for over 60 years, starting at the age of 16. At first he collected every Postcard he could find. In the 1960s, he started doing a little selling via mail order to sell off subjects that he no longer collected, as well as dups. After a couple of years of selling, he went back to collecting only. While not passing up the occasional album or shoebox full of Vintage Postcards at garage sales and estate auctions, his collecting interests narrowed to Vintage Postcards of Des Moines and vicinity, Iowa State Fair, Camp Dodge, and Fort Des Moines.
By the early 1980s, Ron had again accumulated a lot of Postcards. He went back to selling, this time through mail auctions in a Postcard publication. He sold many of his Postcards, and dropped out of dealing for the next 10 years.
In January 1994, Ron decided to run an ad in a Postcard publicaton, and auction off the remainder of my Vintage Postcards except for his personal collection. He was surprised at the prices he received. I set him up with some good software to handle the auctions, so he decided to stay in the auction business. He started buying collections and accumulations from sources all over the world. In my January 1994 Auction in the Postcard publication, along with his "snail mail" address he included my email address. I started getting a few bids by email, which gradually picked up in succeeding auctions. In August 1995, I designed his first website, which he used to duplicate his auctions in the Postcard publication. Ron believed he was the first Postcard Dealer to accept email bids, and the first to use the Internet for a Postcard Auction.
In early 1997, we started designing the Internet Auction Site. It was designed, developed, and written from scratch by us over a period of 8 months. We opened for our first bids on October 1, 1997. Since then, we have tweaked, debugged, and made many improvements.
In addition to Postcards, Ron collected Postage Stamps most of his life. For over 30 years, he was member #101264 of the APS American Philatelic Society. In 1996 the APS approved him for classification as a full-time Postcard Dealer. Ron subscribed to the APS Code of Ethics.
I have always been in charge of the technical side of the site, developing it to Ron's specifications. With his passing, I plan to continue on with this site as he would have wanted.
If you have suggestions for improving the service, a question about your Seller Account/billing, or questions about fullfillment/shipping of Playle's Postcards, email me at david@playle.com. If you have questions about how our website operates, if something doesn't work right for you, or you need technical support of any kind, send an email to support@playle.com.
David Playle
---
This story (abbreviated here) by Lewis Baer appeared in the May 2001 Issue of Postcard Collector.
Reprinted by Permission Postcard Collector, and Lewis Baer
Auction Action
By Lewis Baer
Are there records of Postcard Auctions of a hundred years ago? Probably not, but Postcards were certainly sold at auction then. People had saved them, and when estates were liquidated, entire households were disposed of, including Postcard Albums. How many dresser drawers were filled with cards? How many apocryphal trunks full of Postcards changed hands with the fall of the hammer? No one knows. At farm and home sales during the Great Depression possibly millions of Postcards were bought by countless buyers bidding on auction lots of furniture. By the late 'fifties when our modern age of Postcard Collecting and dealing began, enterprising vendors published mimeographed lists of Postcards for sale to the highest mail bidder. The lists became more sophisticated and magazines brought mail auctions every week or month. Meanwhile odd lots of Postcards were being sold at walk-in auctions in small towns and cities across the continent.
Then in the early '90s Postcards made a play for the bigtime when a leading West Coast auction house ran a walk-in sale exclusively of Postcards from a single major collection. Widely advertised, it drew prospective buyers from around the world, and on the day of the sale bids were accepted helter-skelter from the floor, by phone, FAX, and mail. Although all the Postcards were sold, the event was not a success in the eyes of the auctioneer as the sales total was far too small to warrant the enormous expense entailed. Other auction houses soon learned the same lesson: Postcard Collecting is generally low cost and low key with buyers willing to wait for weeks to learn the results of their bids. Mail-in auctions remained popular.
In the mid-nineteen-nineties computers found their place in our homes and daily lives; the Internet had grown and its web of connectivity had spread world wide. E-mail was a new and instantaneous form of communication.
Ron Playle had been collecting post cards since he was a teenager in the '50s. At sixteen he joined Chicago's Windy City club. Like most collectors he would find himself with excess Postcards, and he would trade or sell them through occasional mail auctions. In an auction published in 1994 Ron included his e-mail address and was surprised to receive several bids through cyberspace. Smart fellow, he realized that here was an entirely new way of offering Postcards; they could be viewed and bid on without leaving home or waiting for the mailman. Ron's son David designed a website in 1995 on which Ron duplicated his mail-in sales, making him possibly the first to accept e-mail bids and to run Postcard Auctions on the Internet. Over the next two years David's computer know-how was combined with Ron's entrepreneurial skills to create Playle's Online Auctions which is continually being updated to keep it at the forefront of the state of the art.
Playle's is not the largest auction location on the world wide web, but it is a leading Postcard Site with as many as 100,000 lots for sale from all parts of the world at any one moment. It also has the friendly and somewhat down home feel of a familiar mail bid auction. The feel of Playle's may seem easy going, but the workings of the operation are far from laid back. It is an easy to use sophisticated system that offers bidders and buyers many choices--particularly helpful is a notification system that automatically sends an e-mail when new items in selected topics are listed for sale. The auction software that the Playles have developed is so successful that at least one very large company has contracted to use an adapted version for its quotation system.
There are many ways of marketing collectible Postcards. Face to face sales at shows with countless Postcards and the pleasure of personal interaction are many people's favorite. Other buyers who are unable to get to shows and shy away from the high speed and pressures of electronic commerce prefer the languid pace and eager anticipation of mail and approval sales. And still others, computer proficient, turn to the Internet and its seemingly unlimited marketplace where Postcards have been regularly offered in small lots. The Internet has shown its ability to conduct business in an old-fashioned way using ultra modern technique. As Postcard enthusiasts we are fortunate to have so many choices.
---